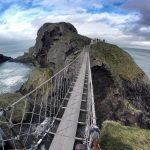 The short version of the story I tell about why I decided to leave work to get a Ph.D. is that I needed to figure out why those stupid users weren't taking advantage of the clever systems I was designing. That turns out to be a midpoint in a longer thread of trying to bridge two worlds that should be one.
The tagline for my blog is a quote from Dorothy Parker: "the cure for boredom is curiosity, there is no cure for curiosity." In business, curiosity is acceptable only up to a point. You can be curious about the specific things you need to learn to tackle your next well-defined goal; free-floating curiosity is suspect.
Today, we are likely to label free-floating curiosity as attention deficit disorder and bring it under control. ADD is a problem of poor executive control, which implies that curiosity must be subordinate to focus.
I was fortunate to grow up in a time before we had ADD as an explanation for certain behaviors. I also had enough natural talent for school-like activities that my curiosity was nurtured and encouraged rather than constrained.
Sometime around the second grade I had my first collision between instinct and the conformity that most schools and teachers preferred. It was a Catholic school and I posed a problem for the nuns; I was clever but, as an eldest child, generally well-behaved. One morning, my teacher—a nun whose name is long lost to me—discovered that the workbook I was supposed to be maintaining for the last several weeks was empty. Who knows what I had been doing instead.
I was dispatched to the principal's classroom with the empty workbook as evidence of my failure. The principal taught 8th grade students so my arrival provoked their amusement and my humiliation as intended. Knuckles rapped with the principal's yardstick, I returned to my classroom. I was sent home at the end of the day with the empty workbook so that my mother would also know of my dissolute ways.
I don't recall Mom being terribly upset. What I do recall is that I did the exercises I had neglected and completed the rest of the workbook that night as well. I returned the finished workbook the next morning.
Here's where I got lucky. My teacher then and those who followed encouraged me to discover what else I could accomplish rather than force me to conform. None of them imposed their agenda or expectations. Once I got the work at hand done, I was free to explore whatever caught my attention. Their gift was to help me discover that learning was about questions not answers and, then, how to ask questions safely rather than ask safe questions.
In an alternate timeline, I might have gone strictly down the math and science path. I was certainly curious about things that were logical—puzzles that had answers, things that made sense. But, not only was I a Catholic in those days, I was catholic in my interests. I was equally interested in things that didn't make sense to me. It turns out, of course, that many things don't make sense in the way that mathematics and science make sense.
In my early years, I wasn't well equipped to distinguish between what didn't make sense because of my ignorance, what didn't make sense because of its inherent complexity, and what didn't make sense because of my limitations rather than my knowledge. I didn't even have those buckets to work with.
Among the things that made less sense to me were people, especially in groups and organizations. I understood classrooms, I didn't understand recess.
My intuitions about the logical, systemic, and structured world developed and improved pretty robustly. My intuitions about the human world were weaker and slower to develop.
One choice would have been to stay within the bounds of the logical. But my innate curiosity kept pushing me to make sense of all of my environment.
There's a long-running split between the human and the systemic. C.P. Snow called it "The Two Cultures" back in 1959. Working that gap has been the place that suits me, although I prefer to work it at a more detailed level than Snow. Recognizing a big problem doesn't yield a big solution. It calls for building bridges one piece at a time.