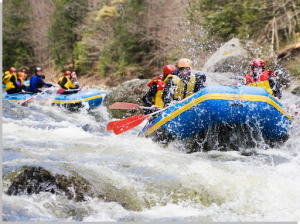 Becoming a founder of Diamond Technology Partners in 1994 was a textbook example of leveraging your network. In late 1993 I was ready for something new. I had published my first book and sent a copy to a former boss and mentor with a note that I would like to use his name as a reference as I started to look for that next new thing. Our phone rang early on a Saturday morning in October—this was when phones were still attached to walls. My wife answered and handed the phone to me.
It was Mel. He had read the book the night before after traveling all week. He quickly came to the point. We needed to meet as soon as we could synchronize our travel schedules. I could not use his name as a reference.
Within the week we were seated in a conference room at the Admiral's Club at LaGuardia Airport. Mel shared one of the very first copies of the Diamond business plan. The plan included a projected organization chart with a box labeled "Chief Knowledge Officer/Chief Learning Officer." The only job Mel was prepared to help me land was to figure out how to make that box work.
Three months later I began commuting from Boston to Chicago. By June my wife and two young boys were in a new house on the North Shore of Chicago trying to make new friends while I tried to figure out what that box might mean.
Putting knowledge management and learning on our to do list demonstrated no special insight; these were issues that all professional services organizations were tackling. Professional services firms live off their accumulating knowledge and their ability to disseminate that knowledge across the organization. Knowledge management and learning are core requirements.
Drawing different maps
What was less clear at the time, to me at any rate, was that the lessons from established firms could not simply be transplanted. The issues and problems they faced were problems of maturity; their solutions addressed their problems. We had to work out how our problems were different before we could begin to design appropriate solutions.
I think of this as drawing different maps because it reminds me that we were in different territory. That wasn't immediately obvious. We had all come from established firms and had limited experience in start up environments. It was tempting and comforting to view our challenges as simply matters of resources and scale.
The limited resources of being a start up turned out to be an advantage. We had combined knowledge management and learning in one box on the organization chart because we didn't have two people to warrant two boxes.
We did not have a "Diamond" way of working. We were actively creating one out of the McKinsey/Accenture/Booz/Bain/Ernst&Young/IBM/LEK ways we drew on from our collective experience. Our clients worked with us because they had problems that didn't fit any of those established ways.
There's the business you plan and there's the business the market tells you that you are in – you had better learn to listen to the market. Rather than match problems to the solutions we understood from experience, we let the features of problems shape our approaches. Our learning and knowledge problems were tightly coupled.
Our knowledge management problem was not about how to codify and scale our work so that it could be reliably distributed. It was to push on the boundaries of what we knew to make room for more new ideas. Our fundamental knowledge management problem was how to extract and organize insights from the innovation that was taking place. Our problem wasn't so much knowledge management as it was knowledge creation.
We had to learn how to draw the maps we needed as we went further into the wilderness. Our problem was more like being part of a research team collectively trying to figure out what we were seeing, what it meant, and what to do about it.
Expanding the learning problem
With the market pushing the entire organization to create new ways to work, the scope of our learning needs expanded. Who had to learn, what they had to learn, and how they had to learn it all changed.
In established firms, the primary learning problem is to equip younger staff with the skills and expertise of their elders. For us, everyone had to deal with learning as both learner and teacher. Junior staff came wanting and expecting to learn; not all senior staff shared that mindset.
We also had to reduce the lag between knowledge creation where we learned something for the first time to sharing that learning with everyone else who could take advantage of it. In more stable environments, knowledge creation could be followed by investments in codification and confirmation. In our environment, we were happy if there were a handful of relevant examples from prior work that could help us shape what to do next.
Circumstance forced us not only into learning by doing but often learning while doing. There's a rich base of knowledge backing the case for the power of learning by doing. We had the good fortune to be able to tap the insights of two of the leading thinkers in this area—Roger Schank and Alan Kay.
You can incorporate doing into almost any learning situation. Learning while doing turned out to be a bit trickier. Thinking in terms of how to better support reflective practice is one element. Building After Action Reviews into our projects was another.
We also deliberately blurred the lines between learning and practice. In our presentation skills class for new hires, rather than craft exercises we polled the field for research tasks and assigned those to students. If, for example, we needed to gather intelligence on a prospective client that became an assignment for a team in the course. Further, we brought in experienced staff from the field to evaluate and judge the quality of the research and the quality of the presentations.
The success of these experiments encouraged us to knock down more of the barriers between the field and learning/knowledge management. We brought experts back from the field to serve as instructors. We asked those same experts to ground the courses in their current client experiences.
What makes all of this matter beyond the challenges of one start up is that more of today's organizations face similar problems of external environments that change too quickly to be captured in the knowledge management and learning practices of more mature organizations. We have all become start ups and our practices need to adapt to remain relevant.