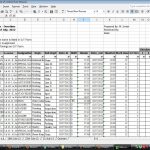 During my first job out of college I was assigned to work as staff on several financial audits. Consulting work was slow and the firm did not believe in idle hands. I was assigned to help with the audit of a major brokerage firm.
As part of the audit process, we had sent out letters to the firm's several hundred thousand account holders asking them to return a form acknowledging that their account statements were correct or noting discrepancies if there were any. My task that first day was to sit at a conference table and count those forms. Each time I reached 100 forms I raised my hand and waited for an audit senior to put two rubber bands around my stack and take it away. I then counted another stack and the day continued.
I was granted a promotion the next day for my diligence at counting to 100. The slips of paper I had counted the day before had only a customer signature. Other slips had comments on them from customers. Some of those comments noted a discrepancy to be investigated; they claimed they held 115 shares of IBM, not 100, for example. Other slips contained what were deemed "gratuitous" comments; observations about a broker's parentage or legitimacy were potentially entertaining but not pertinent to the audit.
I was not asked to make such a rarified judgment call; that was a task for trained and experienced auditors. I was considered qualified, however, to deal these slips out onto the glass of a photocopier, copy the slips front and back, assemble the results, and bind them into files to be saved as part of the audit working papers.
As mind numbing as you might think this experience was, it did drive home an idea about knowledge work that still echoes four decades later.
For all the exhortations on math tests to "show your work" I believed in answers. Showing your work was what you had to do when you didn't get it.
Outside the world of classes and tests, showing your work was also something you needed to do when someone else didn't get it either. Clients and managers weren't necessarily doing to accept an answer just because you offered it up. You needed to be able to walk them through how you got there.
Lawyers call it a "chain of evidence", scientists keep lab notebooks, artists make sketches on the way to a finished work, programmers version control everything.
The path between germ of an idea and final product can be long and convoluted. We so want to reach the end of the path—the answer—that we often fail to manage the trip effectively. That management task can be eased if we are mindful about the ways we design and introduce intermediate work products that support and fold into a final deliverable.