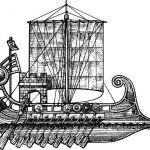 If we're lucky we connect with good mentors during our careers. I first worked with Mel in the late 1970s. Our paths intertwined over the years; I moved from Boston to Chicago to become one of his partners in the consulting firm we founded in 1994. He was CEO and holder of the central vision of what we became. I was Chief Knowledge Officer and Chief Learning Officer, which was a very grand title when we were 25 people; it became more representative as we grew to over a thousand in the next several years.
One of our points of disagreement crystallized on a drive home after another long day. His critique was that I cared too much about insight. As he put it, "95% of the people in most organizations are just pulling on the oars, they don't need insight." My response was to ask where did sails come from if everyone was pulling on the oars?
Mel was anchored in a classic individual contributor/hierarchical manager model of organization. Success depended on faithful execution of the scripts; managers monitored and controlled, contributors rowed. New ideas appeared infrequently and by magic; after careful vetting, new scripts were written, rehearsed, and deployed.
Organizations that survive and thrive do so because they are well-adapted to their environments. When environments evolve slowly, so can organizations.
Those environments don't exist anymore. The current term of art is that today's environments are VUCA—Volatile, Uncertain, Chaotic, and Ambiguous. Yet the show must go on; the curtain rises each day and the audience awaits.
The usual response is to row faster. A new script is written—or found, quick rehearsals take place, and we hope the audience is tolerant of the cast and crew's mistakes.
The better answer is to reorient to an improv mindset and learn how to act more responsively and in the moment. This demands more of everyone in the organization. No one can be content to simply learn their lines or wait to execute their cue.
In the old scripted world, you could set up the joke and plan the special effect. It is a place of grand vision broken down into tactical execution.
An improv, VUCA, world exists between those two poles. The grand vision must relate to the audience/market's interests and responses in the moment. Tactical bits must be selected and sequenced to move in the general direction of the evolving vision.
This calls for performers who can straddle the divide and support crew who can assemble platforms, bridges, and illumination in real time. Developing skill and competence in this dynamic performance demands more capable performers and practices designed to be adaptable.