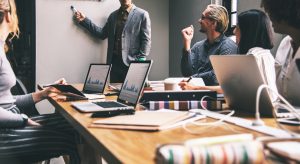 "We need you back in the office now, Anthony's team just got fired."
Although not quite the crisis it might appear, I still had a problem to deal with.
Anthony was one of my partners. He was leading a training simulation with a team of our new consultants. The simulation was a recreation of one of our client engagements. We had taken a 12-week project and compressed it into a one-week scenario. The scenario attempted to recreate both the business issues and the look and feel of working in the field.
Anthony was leading a team of six junior consultants. The team would interact with the client via email, phone interviews, and face-to-face interactions with "clients." The "clients" consisted of my small team manning the email and phones plus a couple of retired senior executives playing the role of the client CEO and CIO. We had a timeline, an outline of how the week should play out, plus a collection of documents and exhibits that could be shared with the consulting team as the work unfolded. Think of it as a giant case study that would unfold as the week progressed. It was more of a map than a script.
Whether a map or a script, there was no part of the scenario that included pissing off the client enough to get fired. Nevertheless, Anthony managed to do precisely that on Day 2. Moreover, my client CEO had ordered Anthony to vacate the premises immediately.
Bad time to have gone to lunch.
After a bit of strategizing with my team, we broke character and I facilitated a debrief of the "firing" with Anthony, his team, and the client. This offered the junior members of the team a peek into the dynamics of managing client relationships they wouldn't otherwise have seen and gave us a path back into the simulation for the remainder of the week.
The ultimate test of this training strategy came a few months later as team members went out into the field for real client engagements. Their consistent report was "we've seen this before and we know what to do."
Our training design was born of resource limitations. As much by luck as by design we had stumbled on deeper lessons for our work. We were learning how to navigate environments without a script and without rehearsal time. We were developing perspectives and practices oriented to an improv logic as the world demanded more responsiveness and adaptability.
I've come to believe that navigating this environment requires a shift in perspective and a set of operating practices and techniques that can be most easily described as improv adapted to organizational settings.
In place of detailed scripts, we were learning to operate from core principles and shared values. Our learning environment gave us a safe space to experiment with and work out how to apply those principles and values.