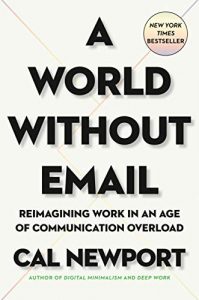 When I was first learning to be a project manager one of the mantras drummed into me was "plan the work, work the plan." Hidden in this advice was a distinction between planning and doing. Today, we are immersed in doing; managing has been pushed to the margins. "Plan the work, work the plan" has shrunk to "work, work."
Cal Newport, in his most recent book A World Without Email: Reimagining Work in an Age of Communication Overload, argues the case that email is the culprit. More specifically, the work style promoted and encouraged by email and other forms of instant communications. He labels this the Hyperactive Hive Mind, 
A workflow centered around ongoing conversation fueled by unstructured and unscheduled messages delivered through digital communication tools like email and instant messenger services.
Tom Davenport has often quipped that the default management strategy for knowledge workers is to "hire smart people and leave them alone." This strategy can work if most knowledge work is independent; if your model of knowledge work is the individual data scientist, college professor, or computer programmer. 
Organizations, however, don't exist to tackle problems that individuals can handle. They exist for problems whose scale and complexity exceed the capacity of any individual. We understand that for problems like churning out automobiles, breakfast cereals, or insurance policies. For those problems, organizations have learned to spend time to design processes that work at scale, spend time to deploy those processes, and then run those processes at scale. Running those processes at scale requires designing in the instrumentation and measurement to monitor and maintain compliance with the process. There is planning followed by doing.
Newport's thesis is that email (and other channels of instant communication) disrupts this balance of planning and doing. The immediacy of message and response rewards one set of behaviors while concealing important costs.
This is where Newport's and Davenport's perspectives intersect. While we were deploying email and its cousins throughout the organization, we were also leaving all those smart people alone to figure things out on their own. We amped up the doing and left each knowledge worker to their own devices to do whatever planning seemed appropriate. 
While Newport is an academic computer scientist, he does manage to find his way to Peter Drucker's work. Newport, Davenport, Drucker, and pretty much anyone else who's thought about it, identify knowledge worker productivity as the problem to solve for modern organizations. Newport, however, does miss this observation from Drucker;
Whenever we have looked at any job – no matter how many thousands of years it has been performed – we have found that the traditional tools are wrong for the task
Email may not be thousands of years old, but it is the wrong tool for many tasks. At least in the way it is typically used in most organizations. 
The second half of Newport's book works through several good approaches for attacking the problems he lays out so well. While some of his strategies can be applied unilaterally, most are premised on no longer leaving smart people alone. 
To achieve better overall outcomes, organizations need to rebalance planning and doing with respect to knowledge work. This is no longer a task that can be left to the individual knowledge worker. That leaves us trapped in a world of productivity hacks and the search for the magic shiny tool. We've all seen that that doesn't work. Newport adds stronger evidence for why that approach can't work and pointers on where to go next. The first step is to elevate the conversation to the organizational level; to put the topic on the agenda of those with the power to drive change.