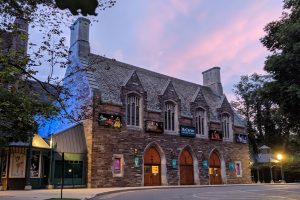 Despite how long ago it was, my university education was still an expensive proposition. Part of my financial aid package was an on campus job. In my freshman year, that job was working as a janitor in my dorm. Dealing with the bathrooms on Sunday mornings was not a pleasant experience. 
My second year, I moved on to much better pastures, working as part of the tech crew at McCarter Theatre, just off the southwest corner of the Princeton campus. I worked as a stage hand, carpenter, and electrician. 
McCarter is a Broadway-scale theater built in 1930 to house the Princeton Triangle Club's operations. It stages multiple productions and concerts throughout the year. I built sets, hung lights, loaded touring shows in and out, ran follow spots, and pretty much anything else associated with the nuts and bolts of making the magic happen. A very blue-collar education taking place in parallel with the classical liberal arts education happening across the street on campus. There, I was studying Shakespeare alongside Regression Analysis.
This juxtaposition of manual and cerebral, art and engineering, practice and theory shaped my perspectives. Perspectives plural being the primary lesson. Classrooms have the luxury of taking narrow and precise focus on a question. A working theater is a laboratory for balancing and mixing competing claims and priorities to bring about moments of magic.
My first question after experiencing one of those moments is "what did it take to make that happen?" Seeking those answers enhances the experience. Finding answers leads to creating better experiences the next time.
Like may lenses ground in experience, I tend to look through them without noticing what they sharpen and what they distort. It's worth taking a look at this particular lens as it applies to gaining a better understanding of doing knowledge work more effectively.
I find it useful to break this analogy between the players and the production.
The playwright and the audience bracket the collection of roles that contribute to creating an experience. Depending on the complexity of the piece, the number of participants in the chain can become quite long; 
producer

 

director

 

designers of multiple stripes (sets, lighting, sound)
performers (actors, dancers, musicians)
builders (carpenters, tailors/seamstresses. painters, electricians)
stage crew (grips, props managers, electricians, audio technicians)
front of house (box office, ushers)
marketers
managers (stage managers, crew chiefs, tech directors, business managers)
If nothing else, this is a reminder of how much collaboration goes into producing a designed experience.
There's an equally complex mix of artifacts that can surround a piece of work. 
There is the script itself. But scripts do not spring forth from the brow of Athena or anyone else. Nor is a bare script enough if our goal is to create an effect or response from an audience; something too often overlooked based on the accumulation of dust gathering on ignored documents piled on shelves. 
Getting to a script is a journey of notes, outlines, drafts, notes, and revisions. Transforming a script into a production spawns multiple streams of subsequent artifacts. There are design artifacts, management schedules, calendars, plans, budgets, and more. These trigger the creation of still more artifacts; sets, costumes, props, promotional items, and more.
The risk of any analogy is to push it too far. If I step back from the precipice there are core elements that I keep in mind as I turn this lens on knowledge work. First, the goal is to elicit a response from an audience. The work doesn't exist for itself, it exists for what it accomplishes. Second, you're not alone; potential collaborators are everywhere, in multiple forms.
Finally, when the curtain goes up, what you get is what you see. There's no point in painting the back of a set that can't be seen by the audience. If the set collapses in the middle of the first act, however, you've got a problem.