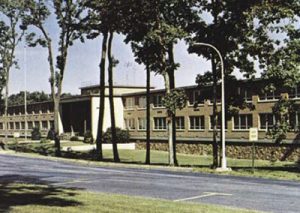 My first experience with ritual was as an altar boy when being a boy was a prerequisite and you had to memorize the responses in Latin. Others may have thought about the ritual aspects; I was mostly concerned with not tripping on my alb.
Ritual, and superstition, was a major component of life in the theater. Learning to say "break a leg" instead of "good luck" as an actor took the stage. Discovering what the "Scottish Play" was. Remembering to leave the ghost light on when you were the last one out at the end of the night.
As a techie, I did these things because that was what you did even if they seemed silly to my fiercely rational side. Fitting in and being part of the company was far more important than pointing out the essential illogic of these rituals.
Despite my fundamental skepticism I found myself drawn to organizations and settings that valued rituals. I started my professional career at Arthur Andersen & Co, part of what was once the Big 8 accounting firms. Gray suits and white shirts were the uniform of most days. Andersen was one of the professional service firms that invested heavily in training. I spent many days at their training center outside of Chicago as both student and faculty.
The activities that happened after classes wrapped up each day gradually chipped away at my skepticism. Andersen's training facility had previously been a small Catholic college campus. It was far outside of Chicago proper. We were pretty much prisoners during the week but Andersen was shrewd enough to invest in its own liquor license to keep the natives from rioting. Classes were filled with practical lessons. Evenings were devoted to knitting people into the culture.
Smack me over the head enough times and I eventually catch on. Perhaps the "soft side" of organization is worth paying attention to. An MBA and a Ph.D. later and I finally grasp that it's more effective to look at organizations as socio-technical systems. Which is an ornate way to say that both the people and the machines matter.
At the outset I viewed this through the lens of an anthropologist. Organizational culture and the methods and rituals that bound people together were objects of study. They were aspects of the organizational environment and had come into existence through the passage of time. You could nudge things at the margins if you worked hard enough at change management.
I had an odd lesson on organizational stability and flexibility early in my career. The theater group that occupied all of my free time and a good bit of my class time in college was about 90 years old at the time. Shortly after I graduated I was asked to serve as a trustee of the group. Instead of the four years that most people spent connected, I spent an additional ten. I saw a curious thing about history vs. tradition. For students, whatever had happened during their few years in the club was all of history. Traditions just sort of existed; they were only loosely connected to the longer history in students minds.
That came back into play when I was part of the founding group of a consulting firm. We had no history but came from places where history and tradition was a key element of success. We understood that we were not simply growing a new business, we were laying down the experiences and stories that would become our traditions and our rituals. We could be intentional about what stories we chose to celebrate or to ignore.
One example comes to mind. We spent most of our time on the road at client sites. We had virtually no infrastructure of offices to hang out in between assignments. Fortunately for our economics, we also had little down time between assignments. You worked with your team during the week and you went out with your team after work in whatever city you happened to be in. But you might not meet your colleagues on other teams for months. They would only be an email address or a disembodied voice on a conference call.
We were smart enough to invest in monthly All Hands Meetings where we flew everyone into Chicago for a meeting to talk about the business and our work. While there was always a formal agenda, we were more interested in providing space for conversations between and after the official meeting. And we were always on the look out for stories to share.
But the clever thing that happened was an end of the day ritual that took place after work at client sites. There was an online trivia game available in many sports bars at the time. It had a leader board that showed who doing well and it showed the leaders across all the bars and restaurants playing the game that night. The game allowed six characters for a name. Our project teams would agree on a time to play (adjusting for multiple timezones) and they would choose a team name that was "GEM" (short for Diamond, which was the firm's name) plus the airport code for the client city. So the team working in Wichita would be GEMICT and the team on Wall Street would be GEMLGA. We had pretty smart people on our teams and the goal was to see how many slots on the leader board would belong to GEMXXX teams. If your team grabbed the top spot for the night, we picked up the bar tab. Small outlay, but important bragging rights for the next All Hands Meeting.
The final observation I would make is that we learned not to force these things. Instead, we looked for ideas from the field that we could amplify. Learning to discern what could be amplified versus what would be rejected took time.