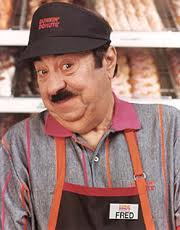 Dunkin Donuts ran a legendary ad campaign in the 1980s—"Time to Make the Donuts." You can still find the ads online. They celebrated commitment to doing the work. What they ignored was the need to manage the work. In fact, they reinforced the idea that work and management were two distinct things.
For making donuts or widgets or Toyotas this is possibly a useful distinction. For the work that most of us do today, it does more harm than good. In the donut world work is about following recipes and management is making sure that workers follow the recipes. There's a lot that can go into following and managing recipes; how accurately do workers follow the recipes, how fast, how many per shift.
But where do the recipes come from?
If you'd prefer to remain in a worker/manager universe, they arrive by innovation magic. Some mysterious, creative process serves up new recipes and processes to be plugged into the existing system. Perhaps there will be some change management pain and disruption to be absorbed. Perhaps you will turn to some specialist or consultant to carry out this odd work. Then, everyone can get back to work.
I think this explains something I always struggled to understand when pitching consulting projects or proposing change efforts within organizations. Decision makers always seemed to object to the project management line item and tasks in proposals and plans. For that matter, project team members weren't keen on the process of managing the work; they wanted to focus on what they saw as the fun part of the work.
It all makes sense if doing and managing are two separate activities. But you can't do that when they are intertwined. When the doing shapes what needs to be managed and the managing calls for picking your way through the doing then you are much more tightly coupled than the mythology of workers marching forward as managers point to the goal in the distance.
I've been fascinated by NASA's recent flyby of Ultima Thule by the New Horizons Mission. If you're interested, I'd recommend a recent Nova broadcast, Pluto and Beyond. One thing that struck me was that project management isn't rocket science but successful rocket science certainly depends on effective project management.
This all matters because the work we are all doing these days is a lot closer to rocket science than it is to making donuts. We'd better start acting as if we believed that.