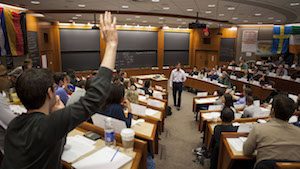 I've lost the certificate but I was once honored by my classmates for the "best bluff when called on unprepared" in a managerial decision analysis class during my first year in business school. I'm fuzzy about what had happened the night before as were most of my classmates so some celebration had taken precedence over opening the day's case, much less actually reading it. Anyway, it's now 8:30 and Professor F opens by saying "Mr. McGee, could you please take the role of John Smith for today." Professor F then proceeded to name two other victims and paired each of us with classmates who were lawyers. We were dispatched to the hallway, while Professor F briefed the rest of the class on what what going to happen next. Out in the hall, I turned to my new partner, Jay, and asked him the key question on my mind. "Who is John Smith?" Jay's response was "you're the CEO of Acme—keep your mouth shut and don't do or say anything unless I tell you to." This was advice I was qualified to handle.
We returned to the class and played out the scenario laid out in the case I hadn't opened. I followed Jay's advice and we escaped unscathed until the debrief. Bruce, one of our classmates who had been at the same celebration and knew my level of non-preparation, asked Professor F how he had selected his victims for the day. His answer was, "picking the lawyers was obvious, of course; I then chose Mr. McGee since I knew he would have already cracked the case and, therefore, would follow the correct course of action." This provoked the reaction you might expect and I was forced to confess.
The obvious lesson is do your homework and surround yourself with people you can rely on. For many years that was all I took away and it wasn't bad advice. But it's proven to be incomplete and the second order lessons have become more important. What's interesting is the changing relationship between the lessons of experience and the challenges thrown up from an environment that is more volatile, uncertain, complex, and ambiguous (VUCA if you are in to trendy shorthand) than what was contemplated in that classroom several decades back.
A manager's job is to use of what Tom Peters calls "a bias for action," and move in some direction. Analysis and experience influence the direction chosen. Movement generates new signals about how the environment is reacting and you keep moving, possibly in a slightly different direction. I've written before about Donald Schon and the role of "reflective practice." In Schon's formulation, effective managers engage in a continuing process of formulating hypotheses, acting, and adjusting actions based on outcomes. The value of cumulative experience lies in making better choices about the direction of movement.
In familiar territory and established markets, action choices are clear. You only need or want enough analysis to distinguish between available action choices. In new markets and developing territory, action choices are less clear and possibly opaque. Action and understanding have to coevolve. There is never enough time to prepare; the world happens at its own rate and managers must act ready or not.
The value of experience changes in this world. Experience gave managers an inventory of familiar situations and responses that worked once upon a time. In this environment, situations don't map to those we've seen before. Managers can't simply select from a menu of responses that are known to work; they must design new responses fit to new realities.