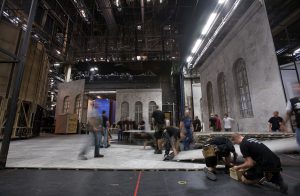 Avoiding risks can be a sneaky head game. I started McGee's Musings as part of a class I had designed at the Kellogg School. The class routine created a rhythm for the blog that gradually led to maybe 1500 subscribers and a smidgen of internet visibility. But then I let it languish. I was in a new environment with different rhythms, there were fixes and improvements that I ought to make before I wrote the next post. Habit killers. Risk avoidance masquerading as good intentions.
The argument is that you must summon your courage, be bold, and face your fears and your risks.
Maybe.
But it might be easier to cheat; to arrange your circumstances and your environment so that boldness becomes the path of least resistance.
In my second year in college I was the stage manager for a large musical play, written and performed by fellow students. The group had hired a professional director from Off-Broadway. Tony was probably in his late thirties or early forties. I was twenty.
It was 7:30, the curtain was going up in 30 minutes for an invited audience to the final dress rehearsal before opening night. Behind the curtain, was what looked like chaos. Carpenters were putting the finishing touches on one set piece and repairing another that had broken. Electricians were on ladders tweaking the focus of one of the lights. Costume designers were fixing a hem. Tony was standing center stage with hammer in one hand, nails in the other, screaming that we weren't going to be ready. I was trying to do my job which was to make sure that the curtain did go up on time. Without conscious thought I walked up to Tony; "Tony. You're not helping. If the curtain doesn't go up at 8, then you can fire me. Until then, get off of my stage." Tony dropped the hammer, tossed the nails aside, and stormed off.
I was bold and the curtain went up on time, right?
The curtain did go up on time, but it's a mistake to think that I was bold or brave. You can choose to describe it that way afterwards, but that misses something more important. I did what I did because it was my job. Said so right on the business card I didn't have—stage manager. Ages of theater tradition backed me up. It was MY stage and it took no boldness to lay claim to it.
If bold action is called for, then strategy must design for it in advance. To know what behavior will be called for and to build that into the environment and the structures where the action will transpire. It is not enough to simply paint a picture of the desired future; the strategist must understand the journey well enough to prepare and equip the team for the obstacles that will arise. You can't simply prepare for any and every contingency. Nor can you rely on an inventory of particular skills and knowledge, "just in case".
The management challenge is to delve into this middle space of the journey. Pointing at the peak looming in the distance translates into breaking the journey down into daily treks, rest and replenishment stops, forays into the next leg of the terrain. Imagining the journey in that next level of detail is where you anticipate decisions that might have to be made and options to be weighed. Understanding the likely terrain and the possible options is where you prepare now to do what will look like bold then.