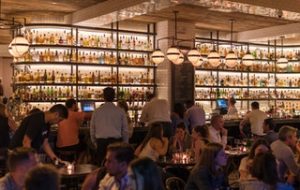 My first job out of college was with the consulting arm of Arthur Andersen & Co. (which has since morphed into Accenture). Andersen invested heavily in training their staff and went so far as to buy their own college campus west of Chicago to house staff while attending classes. I spent many a day there as student and faculty.
Andersen may have been the only professional services firm to have its own liquor license. The training center was in the middle of nowhere and the partners deemed it smarter to set up a bar on campus rather than set hordes of recent college graduates loose after class. Days were spent learning the practicalities of auditing or computer programming. Evenings were devoted to knitting people into the culture.
I don't know that that was a design criteria for the facility. It was certainly a result. After classes, students mixed with faculty, junior staff with partners. Over beers, the stories of successes and failures were told. Connections were made face-to-face that made later conference calls more effective. We were all turned into "Androids" and pleased with the result.
Two decades later, I'm part of a small core group creating a new consulting firm. There are about 25 of us at the start, refugees from Accenture, McKinsey, and elsewhere. But we aspire to much; our goal is to grow and compete with the organizations we had left. Six years later we have more than a thousand professionals across the U.S. and a foothold in the E.U.
We've all seen what investments in training and a strong culture can do. But we don't have a college campus handy. We're operating out of offices sublet from our lawyers. Our consultants, when they're not at a client site, work from wherever home might be. Our only rule is that consultants must live near an airport large enough that they can reach client sites on Monday mornings.
One of the core mechanisms we used to create and reinforce a culture of our own was to convene All Hands Meetings once a month. Everyone came to Chicago. We did training and shared updates on the business.
It took some fighting with our CEO, but we designed the agendas with lots of time between sessions. And partners picked up the bar tabs in the evenings.
We did one more thing to jumpstart creating a culture out of nothing. We sought out "signature stories" of client incidents and events that represented the culture we sought. Some we shared in the formal agenda. Some we dropped into hallway conversations. Some we saved for the bar.