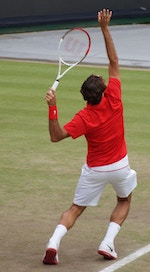 Early in my career I knew a little bit and was effective because I was always asking annoying questions to fill in the gaps in my knowledge. In the middle, I thought I knew a fair bit but was often reluctant to share what I did know. The problem then was that I knew enough to realize how much there was to know and knew there was always an expert somewhere who knew more than I did.
Today, I know a good deal, know that I know it, and know how much more always remains to learn. I've become more comfortable with the fluctuating balance between knowledge and ignorance. I've relearned to be comfortable raising questions, whether out of knowledge or ignorance.
I've gotten over the desire to demonstrate that I am the smartest person in the room. Which is good because that happens far less frequently than I once believed it did.
One particular blessing in my development was the chance to work with Tim Gallwey. Tim is the author of The Inner Game of Tennis, which explores how the way we think affects how we act.
One of the central lessons from my work with Tim was how I thought about what it means to be a coach or a teacher. I started with the naive but typical view that a teacher was someone who knew more. Tim offered a more powerful perspective.
It hit home for me during a session on the tennis court. I played decently enough that the court served as a good laboratory to understand Tim's methods and point. He asked what I would like to work on that morning.
"I'd like to learn how to put spin on my serve."
"That's a good idea, Jim. Spin is a useful tool, especially for a left-hander like you. How much spin is on your serve now?"
Excellent question! "Tim, I have no idea."
"Why don't you hit a few serves for me? As you do, give me a number between 1 and 5 for how much spin you think you've put on the serve."
I hit some serves and called out my guesses. Tim's only action at that point was to correct my answers.
"That was more of a 3 than a 4. Yes, that one was a 2."
What Tim was doing was increasing and calibrating my capacity to observe my performance. It didn't matter what Tim could see in my serve until he could help me see for myself.
My friend, Alan Kay, likes to say that "Point of view is worth 80 IQ points." This moment with Tim was when I began to see a deeper level to Alan's dictum. Finding a better perspective is powerful. Getting others to see from that same vantage multiplies power.
Tim was showing me how to use expert knowledge to help someone else reach a new perspective. Which, of course, starts with empathy not expertise.
Two elements of that, which I've found valuable, are remembering what not knowing feels like and looking for blinders built into the current vantage point. Both of which are worthy of their own exploration. Stay tuned.